So I was walking my dog Travis yesterday and thinking about one of my favorite quilts, Victoria Findlay Wolfe's "Double Edged Love." It's one of her wedding ring quilts, a traditional quilt made modern, as VFW herself likes to say.
When I look at "Double Edged Love" I think of a Robert Rauschenberg collage where images are partially painted over, recognizable and hidden at the same time. Wolfe's wedding rings are also present and absent; they also cover up and reveal. There's an implication, underscored by the quilt's title, that some weddings yield better results than others.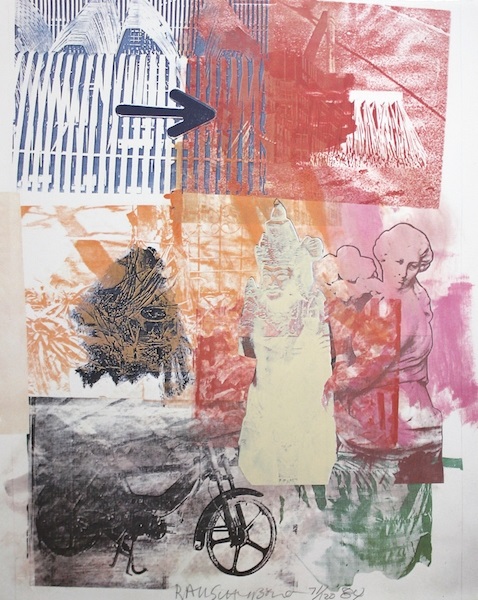 The quilt won "Best in Show" at the first QuiltCon, in 2013, but what's notable to me about "Double Edged Love" in that context is not its modernity, but its nod to tradition. So, I wondered as I walked Travis up Spencer Street, is it a modern traditional quilt? A quilt that uses contemporary fabric and traditional block elements, but not necessarily traditional block patterns?
Not quite. Not really. "Double Edged Love" is at once more traditional than most modern traditional quilts and more outside of the box. But I don't think it looks like the poster child for modern quilting, either.
"Let's call 'Double Edged Love' a disrupted traditional quilt," I told Travis as we continued our walking and pondering, and Travis looked like he thought that was a good idea.
Okay, so "disrupted traditional" probably isn't going to catch on as a category any time soon. But in a weird way, disrupting tradition is exactly what "Double Edge Love" did when it won QuiltCon—it disrupted not only the tradition it was engaging with, the tried-and-true double wedding ring quilt, but also some of the traditions of modern quilting. By 2013, modern quilting was old enough as a movement to have a generally understood aesthetic–minimalist, clean design, alternate gridwork, solid fabrics, etc.–and it was mature enough to consider new ideas of what it might mean to be modern.
Modern quilting it's been argued, has many roots—Amish Quilts, Art Quilts, the Gee's Bend Quilts, Minimalism, Abstract Expressionism, Target. You can look at its family tree and everything makes sense more or less: this begat that begat this begat that. And then suddenly: here's something new, a deviation, born of parents from warring tribes, full of hybrid vigor. In modern quilting's lineage "Double Edged Love" is the surprise love child that knocks everyone back on their feet.
"Double Edged Love" both reflects and gives us insight into the culture we live in. Many of us are struggling to decide what traditions to hold onto and which to discard. We live in a time in which single adults outnumber married adults, gender identity is fluid, and more of us than ever answer "none" when asked our religious affiliation. "Double Edged Love" is a traditional quilt made nontraditional (disrupted traditionalism!), with parts of itself seemingly erased, parts created out of improvised pieces. At the same time, it literally relies on conventional means and patterns to hold itself together. Like most of us, I'd wager.
However we choose to categorize it, "Double Edged Love" will stand out as one of the most important quilts of the early 21st century. Like our culture and our quiltmaking, it takes from the old and the new—and then dreams itself into something we've never seen before. It's the quilt that opens the door to whatever comes next.